Dell Endpoint Management
Simplify management of a wide array of systems and devices

Provisioning, deploying and managing systems do not have to be costly and time-consuming tasks. Dell Software solutions for endpoint management can help you simplify management of a diverse array of endpoint systems and devices, including desktops, laptops, servers, Chromebooks, mobile devices, virtual workspaces and even connected non-computing devices. With our solutions, you can deploy systems, manage software updates, install patches and conduct asset inventory efficiently, so IT staff can refocus on more strategic projects.
IT environments are becoming increasingly more diverse and complex, and consequently harder for you to manage. Mobility, along with more and more "smart" devices (i.e., the Internet of Things) has led to a significant increase in the number and types of devices that are connected to corporate networks—devices that you must inventory, manage and secure. The scope of this challenge becomes more evident when you consider the number of platforms you have to manage, including Windows, Windows Server, Mac OS X, Linux, UNIX, iOS and Android. This often taxes already constrained resources and leaves you in a no-win situation—bogged down in tactical, reactive problem solving, while simultaneously being held accountable for delivering on strategic technology initiatives.
Dell endpoint systems management (ESM) products provide a comprehensive and easy-to-use family of solutions that fulfills your systems management needs, regardless of your organization's size. Dell ESM solutions manage, maintain and secure your entire IT infrastructure—servers, Windows PCs, Macs, Chromebooks, mobile devices and connected noncomputing devices, such as printers, IP telephony and routers, in preparation for the Internet of Things. Dell ESM solutions help your IT department keep evolving workforces productive, protect company assets and move out of reactive mode into a strategic support role for your business.
Dell's comprehensive endpoint systems management products manage, maintain and secure critical clients and servers, as well as mobile and connected non-computing devices. With a flexible suite of products and services, Dell ESM prepares companies to meet emerging systems management requirements, regardless of how new technologies evolve.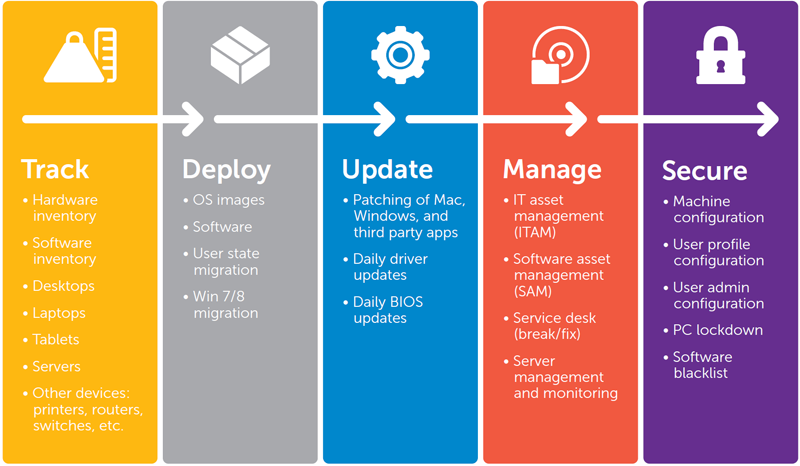 Dell endpoint systems management solutions secure, manage and maintain the critical clients, servers, and mobile and connected non-computing devices of mid-sized and larger organizations.
Management of any connected device
Streamline management of desktops, servers, Chromebooks, storage, network, mobile and other connected devices. Accelerate provisioning, deployment, patching, inventory, configuration and help desk while reducing administrative complexity. Take advantage of automation and standardization to improve the efficiency of provisioning and managing physical and virtual workloads.
Virtual desktop delivery and management
Adopt a comprehensive yet cost-effective solution for managing virtual desktops. Virtualize user desktops and provide users with secure access to workspaces from all devices to support the bring-your-own-device (BYOD) trend. Plus, enable hassle-free desktop scanner connectivity for your virtual desktop infrastructure (VDI) and Remote Desktop Session Host (RDSH) users.
Application readiness
Eliminate the need for manual desktop migration. Speed project completion and reduce complexity by automating application compatibility testing, application remediation, application packaging and application virtualization. Avoid user disruptions and reduce the risk of application compatibility issues during planned upgrades and migrations.